Understanding 2020: Functions of Emotions in Everyday Life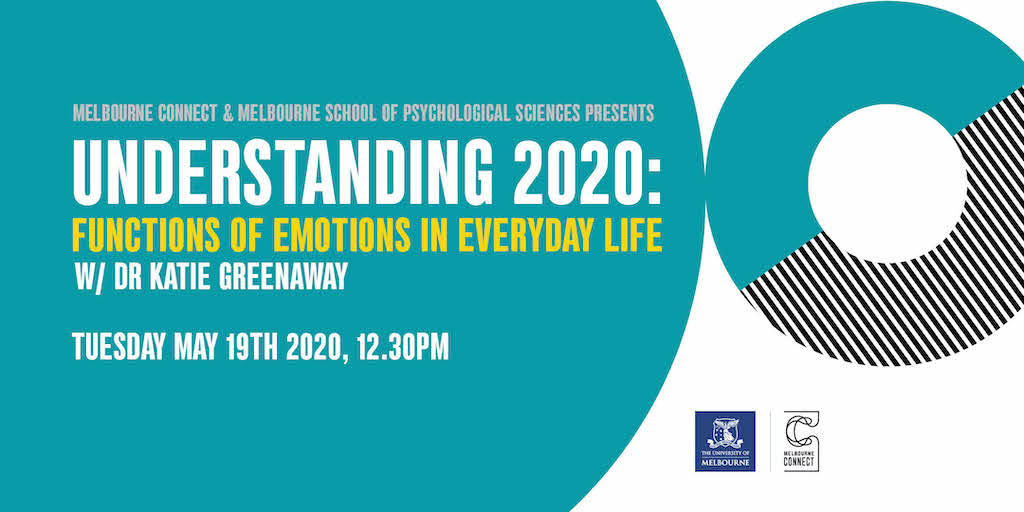 Our emotions can be difficult to manage during times of challenge and stress. So what are some effective ways for us to relieve the pressure and cope?
You're invited to join us for this free presentation on emotion regulation – the science of changing our feelings by changing the way we think.
Featuring:
Dr Katie Greenaway, Senior Lecturer, Melbourne School of Psychological Sciences
(Moderator) Garry Williams, Melbourne Connect
About the 'Understanding 2020' event series:
These fortnightly online events are designed to delve into a range of topics focussed on very current and relevant topics, with evidence based research and leading psychologists driving the thought provoking discussions.
MELBOURNE CONNECT is creating a connected innovation ecosystem by co-locating industry, research, talent and entrepreneurs, establishing Melbourne as a global innovation destination.
The Melbourne School of Engineering will be located at Melbourne Connect, contributing to the precinct's immersive culture of entrepreneurship.
Melbourne Connect opens late 2020. Find out more by visiting melbconnect.com.au
THE MELBOURNE SCHOOL OF PSYCHOLOGICAL SCIENCES fosters innovative research and educational programs that elevate the human condition and supports students and psychologists whose research, projects, and intervention programs help individuals and communities worldwide, making a global impact.
Their research program is broad, with strengths in clinical science, cognitive and behavioural neuroscience, and developmental and social psychology. They benefit from strong interdisciplinary collaborations across the University, and from a remarkable collection of hospital and research institute partners.
Find out more: https://psychologicalsciences.unimelb.edu.au/
Date
May 19, 2020, 12:30pm - 1:30pm