Open Talent Pathways Program
The MID Open Talent Pathways program provides research students at the Masters and PhD level the opportunity to embark on their first journey in the startup ecosystem.
Applications are open now, express your interest here.
Successful applicants will be introduced to the tools and approaches of the entrepreneur, empowered to find and develop their own potential start-up idea and grow their network in the innovation ecosystem. The program, co-developed by the MID partners at RMIT, The University of Melbourne and the City of Melbourne, will
provide participants with inspiration and the core skills of the entrepreneur,
see participants explore problem spaces in a range of industries with a particular focus on the HealthTech and SportsTech sectors,
give students the opportunity to apply their skills to develop and test their own startup ideas, and
see participants live the entrepreneurial experience through collaborative projects (now online), a startup project that solves a problem for an affiliated startup and the option to enter a final design sprint to prepare your startup idea for application to later stage accelerators.
Approximately 30 participants will have the opportunity to join the free program and receive entrepreneurship education as well as coaching and mentoring from industry and academic experts to activate their entrepreneurial potential. Research students from RMIT and the University of Melbourne across all disciplines are invited to apply.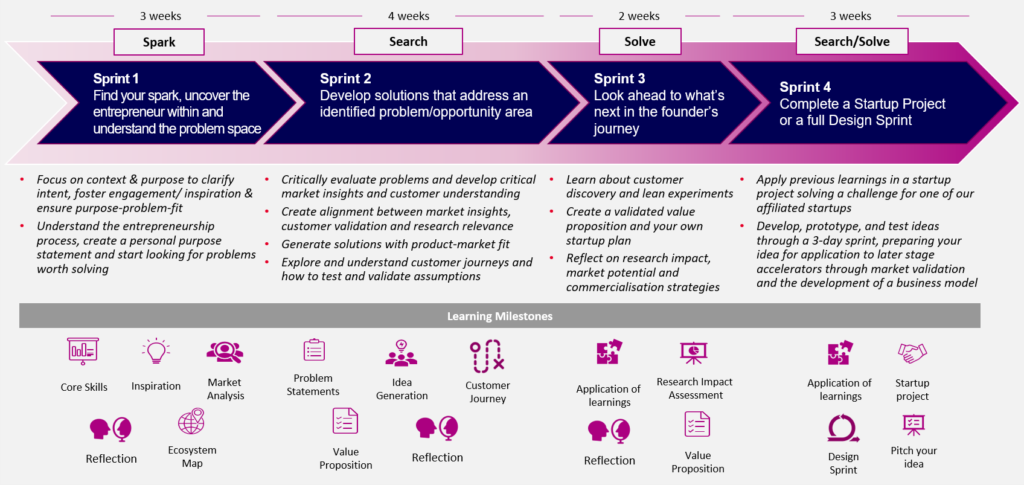 Program format
To keep participants, facilitators, speakers and partners healthy, we are shifting the delivery of the entire program online via a dedicated learning platform. Workshops, coaching, founder sessions, site visits and any other sessions that would normally happen face-to-face will be held via Zoom using a variety of tools, such as virtual whiteboards and breakout rooms. While it is not what we are used to either, we are taking this situation as a learning opportunity and are aiming to deliver engaging content in an exciting new format. If this is the new normal, we might as well get on top of it.
Timing:
The program now starts on 20 April 2020 and runs for 12 weeks with a time commitment of one day per week with some intensive workshops and some distributed team/individual work.
Expressions of interest are open now – you will receive a link to the program application.
Program applications remain open until 7 April.
Learning outcomes:
to develop core entrepreneurial skills and understand problem spaces,
to get a taste of the entrepreneur's experience through completing a startup project,
to develop solutions that fit with the broader Health- and SportsTech market and ecosystem, and
to develop a validated concept, pitch and set of next steps via a final design sprint.
Unlike for other offerings in this space, this program is an investment in the person and their skills. As such, participants do not need a startup idea or team to be accepted to the program, but will be introduced to focus industry sectors in which to apply their knowledge and skills.
Application process:
After an initial expression of interest via the link below, we will invite eligible candidates to provide insight on their experience, outlook and personal character. As this is a critical element of the application process, please ensure you demonstrate your specific capabilities – whether technical, managerial, creative or otherwise – and the passion and energy that you can bring to the program.
Applications are open now, express your interest here.
Stay safe!
Status
Active
Timing
April to July 2020